The 2022 Subaru Love Promise Community Commitment Award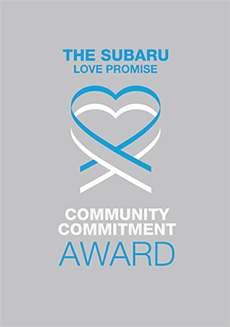 We've been nationally recognized for our dedication to our community and the Subaru Love Promise.
We're honored to receive the 2022 Subaru Love Promise Community Commitment Award. This award nationally recognizes Subaru retailers who are making the world a better place while demonstrating an outstanding commitment to supporting passions and causes in local communities. These efforts are focused in important areas such as the environment, community, health, education, and pets.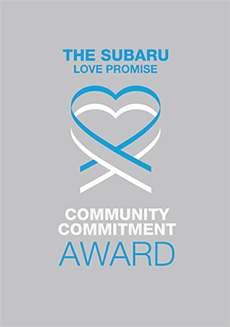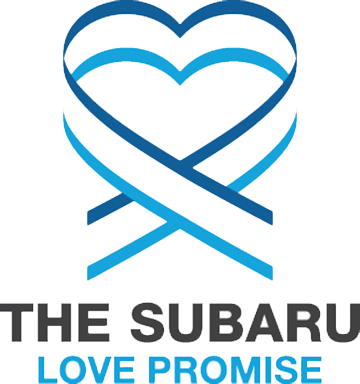 What is the Subaru Love Promise?
Subaru and our retailers believe in making the world a better place and the Subaru Love Promise is our vision of respecting all people. This is our commitment to show love and respect to our customers and to work to make a positive impact in the world.
How is Wackerli Subaru dedicated locally to the Love Promise?
Our Love Promise can be seen in various partnerships with local charities and non-profits. We're grateful for the opportunity, not only to be a part of our community, but to serve it as well.
Snake river animal shelter
Ethel boys elementary school
Love Promise Stories from Wackerli Subaru
Subaru and Wackerli Subaru believe in making a positive impact on the communities in which we live and work. We uphold that belief through our Love Promise Community Commitment. Every month, we select inspiring stories from customers and partners from around our area who strive to support our collective commitment and feature them here
Wackerli SUBARU - Support you can count on! - Nora P
What a surprise when we received an email from Derrick Harmel from Wackerli Subaru in the beginning of May letting us know that they will donate $16,270 to Snake River Animal Shelter- their biggest donation so far. Each year during Subaru's nationwide "Share the Love" event, Subaru donates $250 to a nonprofit for each new vehicle purchased during that time. Through changing leadership and staff throughout the past two years at SRAS, Wackerli SUBARU remained as committed to supporting our organization as we remained focused on our mission: to improve and save animal lives by promoting quality care and compassion through adoption and humane education in the region. And the support pays off! Since its founding, SRAS has not only achieved a no-kill status itself by giving all animals in our care an unlimited length of stay but also supported other regional shelters in the region to lower their euthanasia rates. More than 6,800 animals have found their new homes, since Snake River Animal Shelter opened its doors and more than 1000 dogs have been trained, since the K-9 Academy was started - our dog training program for shelter dogs and owned pets alike. As we are entirely dependent on donations, grants and limited operating income, all that would not have been possible without the essential support from community partners like Wackerli Subaru whose unconditional commitment carried us through the COVID-19 pandemic and many other challenges in the past years.
---
Delta Waterfowl Wood Duck Nesting - Nick M
Thank you to Wackerli Subaru for supporting the Delta Waterfowl Snake River Chapter nesting structure programs! Each year with the help of Wackerli Subaru we are able to maintain and install new wood duck nesting structures along the Snake River in the east Idaho region. These structures are great way for cavity nesters, such as the wood duck, who naturally look for holes in trees to have an option to nest. With Wackerli Subaru's support we have been able to survey and record many active breeding pairs of wood ducks who have produced over 100 new wood ducks to the local population in just the last couple of years. We look forward to the many years to come and we mean it when we say we couldn't have done it with out you!
---
Christmas Basket project needed a building - Roger M
2021 Christmas Basket Project December of 2021 marked the 44th year of the St. Vincent de Paul Christmas Basket project in Idaho Falls. This is a partnership of St. Vincent de Paul, the Saint John Paul II Catholic Community and the First Presbyterian Church, with support from many other organizations and individuals in the community. The project has grown to the point that for about the last 20 years we have needed to "borrow" a large vacant building where we can receive and sort unwrapped children's gifts and lay out boxes in which we place certain food items that are distributed according to family sizes. Wackerli Subaru had recently moved from their former location on N. Holmes to a new location. Steve Wackerli generously allowed us to use the empty building to conduct our 2021 project. Wackerli employees, Carol Kolbet and Ryan McCray were very helpful in facilitating our use of the building (getting keys for us, helping with insurance, making sure the building was warm and secure and bathrooms were working, etc.). They even arranged for us to use their forklift to aid in unloading pallets of food and other supplies. And just before our distribution day they plowed the snow from the parking lot where our families came to pick up their food and gifts. That was a big help! Over a period of a little over two weeks, dozens of volunteers from the community came to the building to help with the set up for distribution day. Then on December 18, 2021 there were 172 families (representing over 870 people) that drove around the building where volunteers carried their Christmas food and gifts to their cars. 549 children got gifts and/or gift cards. Without the donation of the former Subaru building we could not have carried out this project, and many of these families and children would have had very little for Christmas.
---
The repair that made all the difference - Darrell L
In a day and age where its hard to find people who have your best interest in mind. I'm a competing dealer and had a customer who needed a repair on their Subaru and needed all the help they could get. I can't say enough good things about the service manager Cody and the Manager Tyler they went above and beyond to help us but most importantly our customers who were in a bind. They chizzled out the absolute best deal on the repair they could to help our customers out. It was such a great experience working with these two in charge and we're grateful there are still dealers and people who truly want to help where they can. Grateful for the Subaru team and look forward to doing more future business with them.
---
"Customer Appreciation/Loyalty Giveaway Story" - Monika S
This is a story that starts off as a customer appreciation story, but as the story unfolds, turns into a wonderful example of customer loyalty and love. Monika Shook, our winner of the New Subaru Bike Giveaway & Raffle Event held this quarter, just happened to be at the new Subaru store for a routine Subaru service and was invited by the service department to enter the raffle giveaway. When her name was picked (she was so surprised!) Monika, when I was interviewing her, explained to me that she had been going through a time of mourning and when she saw the bike, it was like a "little sign" from above to get out again and to enjoy country car and bike rides again. But this is not a story about winning a raffle. Her Subaru story starts 3 years before when her daughter decided to attend college in Montana and her concerned husband knowing that she would want to drive and visit their daughter on the weekends researched every car on the planet she said. His #1 important factor was SAFETY. He loved all the safety features that Subaru offered and then he started researching durability and gas mileage and decided that a Subaru would be the perfect vehicle for his wife to visit their daughter for the next few years. He ordered her an Outback with all her favorite features and colors and when it was finally delivered from the factory, poor Monika was stuck at the family business office and was unable to stop work and pick it up. She remembers that day vividly, and reminds me that her mouth dropped when she saw her husband with the Wackerli Subaru Salesperson driving her new car to her at the office. She recalls, I instantly fell in LOVE with the Outback, its features and how Wackerli Subaru went above and beyond with trying to make a new client's hectic life easier. Monika then tells me that when her daughter graduated that she also purchased a new Outback and they have something to bond over because they both love the features and her daughter loves how owning a Subaru lets her live that "outdoors" life and how a Subaru makes it easier and fun instead of a hassle to head out for a weekend getaway. Monika pauses for a minute during the interview to recollect her thoughts. She reminds me again that she was NOT there for the raffle or the giveaway but for a routine car service, she adds, I don't let anyone touch my Outback but Wackerli Subaru. She mentions the usual reasons, very friendly staff, service department is quick and reliable. She uses the words "HONEST", "FRIENDLY", and "RELIABLE" multiple times while she is telling me her story, but then she stops and she gets quiet like she is living another memory...and says: Snake River Animal Shelter. I saw that Wackerli Subaru supported the Snake River Shelter and that you had brochures and posters out supporting the shelter and pets/animals. She mentions her dog Lucy again and how much she loves riding in the Outback, but then adds that it was her and her husband that designed and built that shelter and that it is a cause that is very dear to her heart. I thanked Monika for her time and her heartfelt re-telling of her Subaru story. A story that started 3 years ago, with a gesture of love and a desire of keeping that love safe during travels...She starts to send me puppy pics riding in the Outback and starts listing me all the features in her Outback that she loves...she mentions, that should help you sell more Outbacks. She even mentions the demographic this story would entice. But this story isn't about selling cars or about what features are the best...this is a story about love, creating relationships, and making new family...we like to call it the "Wackerli Subaru Way."
---
Subaru Trail Stewardship - Lukas E
Wackerli Subaru financially contributed to KLIM's trail maintenance day at the Bear Creek Trail near Palisades Reservoir. KLIM is a motorcycle and snowmobile gear manufacturer based in Southeast Idaho, and they organize trail maintenance days to help improve nearby multi-use trails. Wackerli Subaru joined one of the trail maintenance days and sponsored meals for the 45-person team of volunteers who helped improve this popular multi-use trail. The 45 volunteers showed up from all segments of outdoor user groups, including horseback riders, hikers, mountain bikers and dirt bikers. This was a great example of people with different hobbies getting together for a great cause, to make the trail safe and accessible for everyone, and to avoid the risk of closure so people can continue enjoying it in the future. The team constructed a large 30-foot bridge in record time. This new bridge would allow access to the trail system earlier in the spring when the creek is flowing at its highest and would be otherwise too dangerous to cross. A similar project was done about two years ago and it took two weeks to build the exact same bridge – this time, the crew built the bridge in two days. Wackerli Subaru's help with providing meals for the large team ensured that everyone was well-fed and enthusiastic about the project. Projects of this magnitude are not possible without participation from many volunteer trail users and great sponsors.
---
Brazing Idaho Winter Weather With Wackerli Subaru - Nora P
This years' Share the Love events with Wackerli Subaru took place in November and the Idaho weather was not on our side. Luckily, Steve and Ryan proved incredibly flexible for our live adoption events, clearing the cars, so we could set up the kennels inside on a rainy day. For all the events they allowed us to use their trailer to transport the kennels back and forth. We couldn't be more grateful for their flexible and helpful approach to make the Subaru Share the Love Event a success. Thanks to their efforts, we were able to find a new home for Panterra. Panterra was a transfer from the Idaho Falls Animal Shelter and had shown some aggression before leading to damage in an apartment and kennel. However, it became clear that Panterra was actually a very loving dog that just needed a lot of attention and damages were caused by separation anxiety. In October, Panterra finally found new owners, who were made aware of the challenges. Since then, we were told by them, to their delight Panterra showers them in love: "He hasn't left his side and is such a good boy. He seems so very happy and his tail is wagging all the time."
---
All you need is love and the right home - Nora P
One animal that found a new and loving home through the SUBARU Share the Love event was Panterra. Panterra was a transfer from the Idaho Falls Animal Shelter and had shown some aggression before leading to damage in an apartment and kennel. However, it became clear that Panterra was actually a very loving dog that just needed a lot of attention and damages were caused by separation anxiety. In October, Panterra finally found new owners, who were made aware of the challenges. Since then, we were told by them, to their delight Panterra showers them in love: "He hasn't left his side and is such a good boy. He seems so very happy and his tail is wagging all the time."
---
Helping The Most Vulnerable - Jenn W
The participants staying at the Haven are not much different than you and I. They all hope the same, they dream the same, and they all have amazing beautiful stories. The only difference is, in this season of their lives, they currently do not have a place to call home. Daily at the Haven, we walk alongside those who have experienced significant loss and strive to show them that there is a way out of homelessness. We do this by not just providing a warm safe place to stay but also support them in identifying their strengths, goals, and ability to overcome. We are only able to complete this service, through the loving, kind, and generous support of our Idaho Falls community. My name is Jenn and I am the Manger of the Haven in Idaho Falls. The Haven is a temporary shelter operated by Eastern Idaho Community Action Partnership. At the Haven we provide temporary emergency shelter and case management support, for families experiencing homelessness within the Idaho Falls area and neighboring communities. Our goal at the Haven is to provide a safe place for families to stay, while working on goals that will allow them to gain permanent housing and self sustainability. At the Haven, we have 25 units where a family can remain unified and reside together, while working to overcome their homelessness situation. I can still remember the day, Tyler form Wackerli Subaru called the Haven, asking what was it that Wackerli Subaru could do, to make the biggest impact for our participants at the Haven as well as others experiencing homelessness throughout the community. We immediately started talking about our belief that everyone, no matter their situation, should have the ability to access certain basic needs. Through this conversation, we talked about the cold Idaho winter being right at our doorstep and how many individuals experiencing homelessness in our community, would not have the basic supply of just a blanket to keep them warm. It was then, Tyler asked if Wackerli Subaru donated blankets to the Haven, if we would make sure that they would get to our participants at the Haven as well as any other individual experiencing homelessness in our community, this winter. Their hope was to provide warmth for our most vulnerable neighbors. On the day, the Wackerli Team showed up with around 100 blankets, my gratitude overcame me. Some may have seen 100 blankets but I saw 100 individuals that would have the means to access warmth, during some of the hardest days of their lives. Those blankets will not just provide physical warmth but will also provide emotional warmth. Many experiencing homelessness begin to believe that they deserve to go without and no one really cares about them. Through that gift of a blanket, the person receiving it will know that someone cares, their community cares, and they are not unseen! Thank You Wackerli Subaru for joining your mission with ours, to show everyone, no matter their situation, that they are loved!
---
The O'Haver Family- A Rescue of the Hearts - Ohaver F
While most people's world has been rocked by the COVID crisis, my family had our universe rocked by the sudden loss of my 33 year-old husband, Jacob. My name is Sydney O'Haver and I never could have expected the call I would receive when my husband's work experienced a bank robbery. The stress of the robbery caused my husband to have a ruptured aortic aneurysm on July 2, 2020. This was a tragedy that far surpassed any current events, and a person could wonder, and I wondered myself, how comfort and healing could even begin for us. It turns out that the amazing power of love and attention by three little kittens has been the saving grace that we needed in order to begin to cope. My children and I had been caring for a stray kitty and were ready to personally adopt it when it disappeared and never came back. After the loss of Jacob and now this stray kitty, I decided to spontaneously visit the Snake River Animal Shelter to help a new kitty in need and try to redirect my kids sadness. I have 4 children, three daughters and an infant son; Scarlette is 11, Sienna is 9, Secily is 5 and Desmond is our 9 month-old baby boy. I went to SRAS to adopt just one kitty but found that the shelter was having a $20 cat special, so I left the facility with three kittens, one for each daughter. The kittens have brightened our lives in so many ways, they have been super cuddly and provided a sense of healing and direction for each of our kids. Each kitty seems to fit each child perfectly and they have given every child a sense of purpose. My oldest daughter, Scarlette's kitty, Kuzko, is the calmest and most relaxing kitty. He helps to settle her nerves because as the oldest she has had to help a lot in her father's absence. Sienna, who is a natural caretaker, adopted Luna who was a very shy and timid kitty and has found security and confidence through Sienna's tender loving care and patience. Secily is a fearless fireball of energy and is very social and friendly. Her kitty is Ash and is a perfect fit with energy to match hers. He loves to be a part of all she does and loves to be carried everywhere she goes. Their activity is a daily amusement! I could have never known the incredible impact these kittens would make in brightening our lives and I can only hope we have brightened theirs too. I am just sure my husband is laughing as he looks down on us from heaven and sees the antics of our new furry family members.
---