What the Subaru WRX Does Better in 2018
The Subaru WRX is a deceptively quick car, but it doesn't stop there. For 2018, there are some impressive upgrades, too. Read on to learn more!

Subaru has built upon more than 40 years of experience to bring enthusiasts the 2018 Subaru Impreza WRX. The award-winning family sedan brings high-performance power in a sporty package.
The WRX hit the roads of Japan in 1993 with a four-cylinder, forced induction engine that made 240 horsepower. Over the years, the WRX has undergone many different body changes and engine modifications. Today, the WRX STI is a turbocharged engine making over 300 horsepower.
Read on to learn more about what the Subaru Impreza WRX does better in 2018.
Powerful Turbocharged Engine At the heart of the 2018 Subaru Impreza WRX is its Subaru Boxer Direct Injection Turbocharged (DIT) engine.
The WRX, Premium and Limited each come standard with the 2.0-liter engine, which produces 268 horsepower at 5,600 rpm. The engine also makes 258 lb.-ft. of torque at 2,000 to 5,200 rpm. While this remains unchanged from 2017, it marks a 44 horsepower increase from the 2008 model.
If you are looking for even more performance, the WRX STI and STI Limited are what you want.
Each model boasts a 2.5-liter turbocharged boxer engine and adds an intercooler and more power. The STIs get off to a sprint quickly with the help of its turbocharger which has 14.7 maximum PSI boost pressure. Both models make 305 horsepower at 6,000 rpm and 290 lb.-ft. of torque at 4,000 rpm.
But regardless of what model you choose, you get a competitive performance package.
Fine-Tuned Suspension
The WRX is well-known amongst enthusiasts for delivering the complete package when it comes to its suspension. The 2018 Subaru Impreza WRX is no different.
All models come standard with track-tuned suspension. It is its unique double-wishbone rear suspension that helps drivers round corners while they maintain control throughout its body.
Each WRX comes standard with spring rates that make the suspension aggressive on the track but able to deliver as an everyday driver too.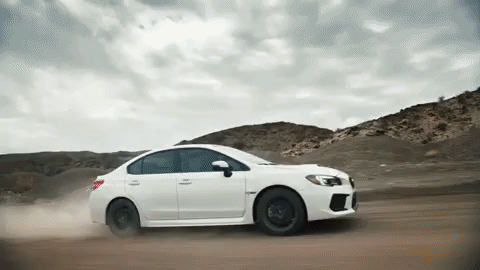 Better Handling
The Subaru Impreza WRX has distinguished itself from the competition because of its superior handling.
Brand new 2018 models keep with this tradition.
They come standard with Vehicle Dynamics Control (VDC). This technology uses active torque vectoring to give drivers better control behind the wheel.
The VDC system works actively to limit wheel spin to keep you on the road or track. It also reduces understeer — which gives the WRX the ability to take tighter corners with more control.
This is one of the ways that the WRX has helped
Premium Sound
The Subaru Impreza WRX offers a 6-speaker sound system standard in 2018 models. But if you want a bigger sound, there is an available 9-speaker, 440-watt Harman Kardon audio system.
The Harman Kardon system is equipped for smart phone connection and offers dual USB ports. This allows you to play your favorite MP3 files in a quick and easy way. If you enjoy satellite radio, a four-month trial subscription of Sirius XM comes standard.
Emphasis on Safety Features
When it comes to safety, the WRX offers many different features to help you stay safe behind the wheel.
All WRX models come standard with Subaru's traction control and four-wheel anti-lock braking system.
The WRX Limited and both WRX STI models come standard with STARLINK Safety and Security. This system offers features like roadside assistance and helps with recovering your vehicle if stolen. Other unique features include an automatic collision notification.
These are valuable safety features that can help you in those unplanned situations when you need it. Despite Subaru's emphasis on performance, the automaker continues to make safety a priority.
Advanced Sensor Systems
The Subaru Impreza WRX has advanced sensor systems available in 2018 models.
Subaru's Blind Spot Detection System gives the driver an indicator in side mirrors that there is a vehicle in a blind spot. The Rear Cross Traffic Alert System warns drivers of oncoming traffic behind their vehicle. These systems are optional in the WRX Limited but standard in the STI Limited.
For all WRX models, a backup camera comes standard.
A study by the Insurance Institute for Highway Safety found that 57 percent of drivers in vehicles with backup cameras avoided backing over a stationary object behind their vehicle.
This important study shows how important cameras and sensors can be to help lower some of the danger that can come from operating a motor vehicle. Sports Bucket Seats
To give the WRX the sporty feel that enthusiasts expect, all models come with a sports bucket seat. But when it comes to the WRX STI, like the engine options, Subaru ups the ante.
The WRX STI Limited comes with Recaro performance seats. These give the driver and their front passenger a sporty cockpit that also maintains a high level of comfort.
These seats help keep you held in place as you maneuver the roads or rally tracks in your area. But always remember to drive safely and pay attention to your surroundings. There's no replacement for being a smart driver and understanding your limitations on and off the road.
Wrapping Up: The 2018 Subaru Impreza WRX
The WRX offers a unique package of performance, utility and safety features — all at an affordable price.
It's also a fuel-efficient vehicle for you to use as an everyday driver.
The four cylinder engine in the WRX is an economical way vehicle. The WRX, Premium and Limited earn an average of 21 miles per gallon in the city and 27 on the highway.
Even the WRX STI and STI Limited, with an engine that is half a liter bigger than the standard WRX, can average 17 miles in the city and 22 on the highway.
Base models start at $26,995 while STIs begin at $36,095 with the STI Limited starting at $40,895. There are also affordable financing options available to make owning a WRX a reality.
Learn More About the WRX Today
The best way to learn more about a vehicle is to see it in person and test drive it yourself.
Are you interested learning more about the best Subaru Impreza WRX for you and your family?
Contact us today at Wackerli Subaru in Idaho Falls. We offer a wide range of new and used Subaru vehicles and will take the time you need to find the right vehicle.