Wackerli has been a proud sponsor of The World Famous Extreme Blue Thunder Air Show for now the 4th consecutive time. They headlined with their Blue Angels performing aerobatic and low flying maneuvers, entertaining thousands locally. Whether you were at the events this weekend, at home, or out and about, you definitely felt the rumble of the jets flying over the region. Sometimes close enough to shake the dishes in your sink.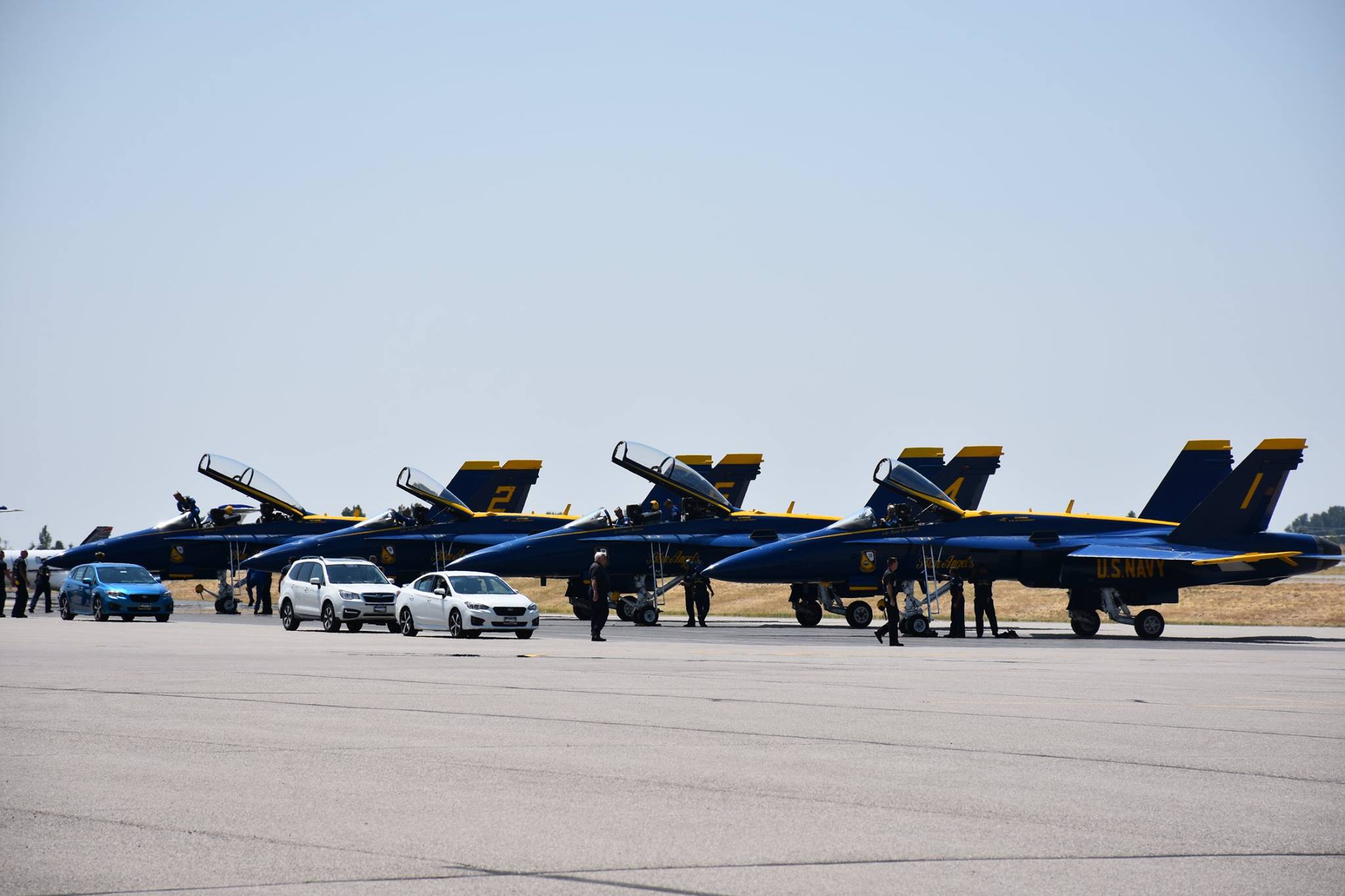 | | |
| --- | --- |
| | This year Wackerli Subaru was honored to be one of the key sponsors to the Extreme Blue Thunder Air Show. We provided crew members with over 40 new Subaru's to use when they weren't flying their own jets. Blue Angel officers and other crew members were able to cruise around Idaho Falls in either a Subaru Outback, Forester, Crosstrek, or Impreza, all delivered to them personally by the Subaru Wackerli staff members. We also had our own booth setup. Anyone who visited was offered logo gear, and information on the Subaru vehicles we offer. |
| | |
| --- | --- |
| Besides the entertainment of watching such an incredible event, The Blue Angels demonstrate such patriotism. The U.S. Navy has protected and served our country and to be part of supporting our Military was an honor for Subaru Wackerli, and our community. The show is merely a demonstration of what the U.S Navy endures to serve our country. | |
Wackerli has been involved in the Southeast Idaho community for 70 years now, serving customers, businesses, and employees. We have also had several opportunities to sponsor many events, in addition to the Extreme Blue Thunder Air Show. We have sponsored the Idaho Falls Chukars at Melaleuca Field, and have a permanent spot with Bonneville High School sponsoring and donating to many school events. We have had dozens of employees over the years volunteer for community service by planting trees and gardens throughout Idaho Falls. Wackerli has been involved with the Independence Day Celebrations on the Greenbelt and has given away hundreds of gift cards, oil changes, free details on vehicles, concert tickets, all types of logo gear, and much more to anyone who purchases a vehicle from Wackerli. You can also catch East Idaho News every Friday for Feel Good Friday, Wackerli is the sponsor for helping do what we can to better those in our community that give back.
There are more events coming up to look forward to: HeART of Idaho Century Bike Ride on August 12th and the new Aquarium that is currently being built. They are always looking for volunteers!
It's been an honor and tradition for Wackerli Subaru to provide to Idaho Falls and our neighbors, whether it's buying a car, getting a car serviced, or simply being involved in the community and we are proud to be part of such a great home town. Look for more events and we'll see you there!